Have you ever seen such a beautiful, sassy calico? (Seriously, we'll wait).
Meet Ember, the kitty of the hour, and her family — her two-legged parents Josie and Isiah and her furry canine siblings Ronan and Kahlua.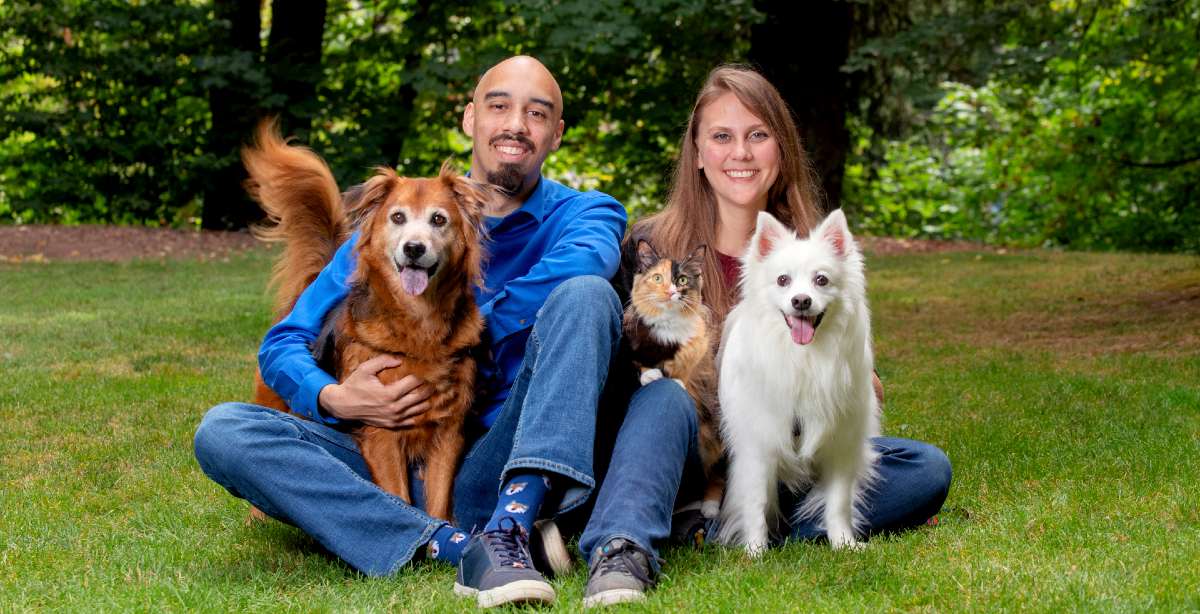 Ember is a 2.5-year-old kitty, adopted from the shelter when she was about 10 weeks old (yes, we're picturing how adorable tiny Ember must have been).
Since then, she has blossomed into an independent, adventurous kitty who enjoys outings with her family (get this: she's even harness-trained) and freeze-dried meat treats!
Here is Ember's journey to real food:
What makes Ember special and unique?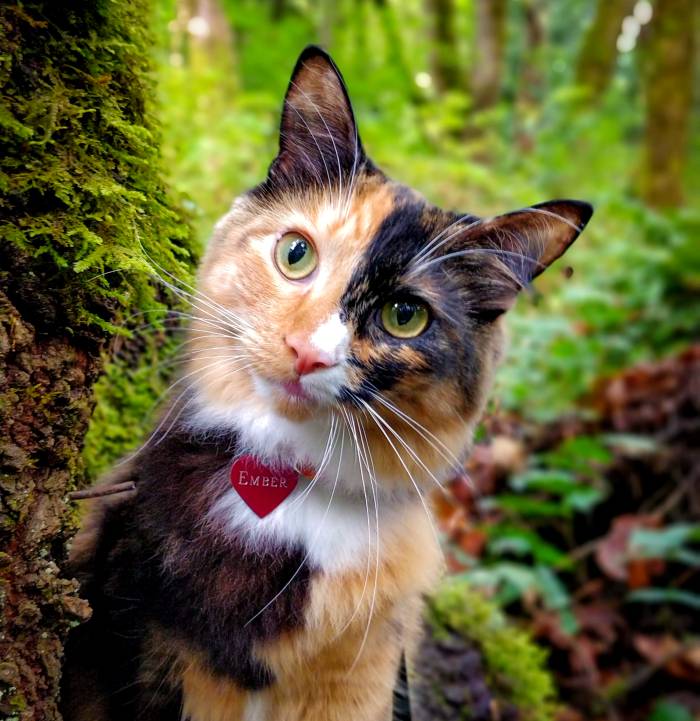 Ember is an adventure kitty! She loves exploring new places with her dog siblings. 
She joins us on our outings to pet-friendly stores, forested hikes (her favorite), and even the local coffee stand for a little "CATpuccino" (whipped cream cup). 
Everywhere we go, she has people double-taking, asking how hard it is to harness-train a cat or why she is so soft. 
She is a great breed ambassador for raw food and leash training kitties. We love our sassy, independent calico kitty!
What is the BEST thing about Ember?
She is an amazing travel buddy. Ember loves to explore new places both inside and outside.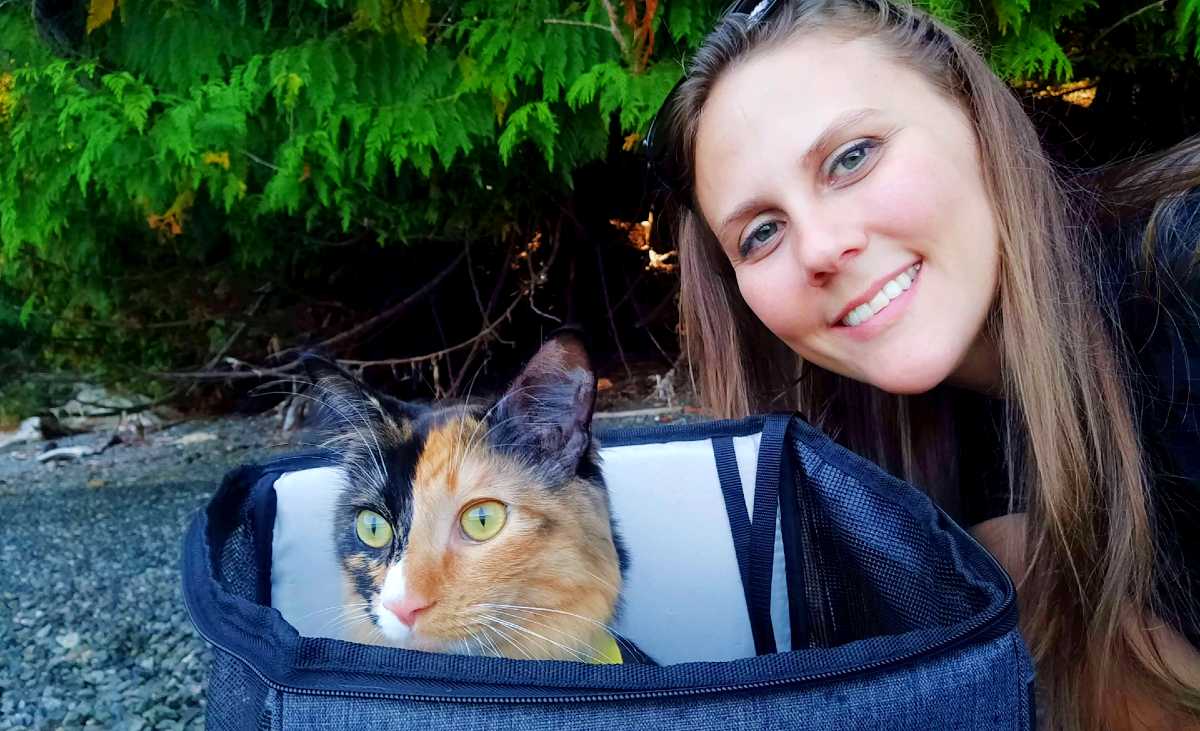 Our favorite adventure was a trip from Portland, Oregon, to Victoria, B.C., with Ember, Ronan, and Kahlua. We did a couple nights in hotels, where Ember was excited to explore, and we stopped at many parks and trails along the way. Everyone even got to ride on the ferry from Northern Washington into Victoria. And Ember got to walk through the beautiful Butchart Gardens in Victoria! We have so many more places we are looking forward to visiting with her and the dogs.
What is Ember's favorite thing to do?
Ember loves being in the great outdoors, watching birds, smelling trails, and walking with her siblings. Everyone is by far the happiest exploring. 
Ember explores on a leash and harness, and sometimes in her backpack. Most days, she walks a good portion of our trek on her leash. If she is more interested in observing, we pick her up and she will ride on or in her backpack. We always travel with her backpack because it is her safe space. She rarely gets scared, but we always want her to feel confident and keep her outings positive.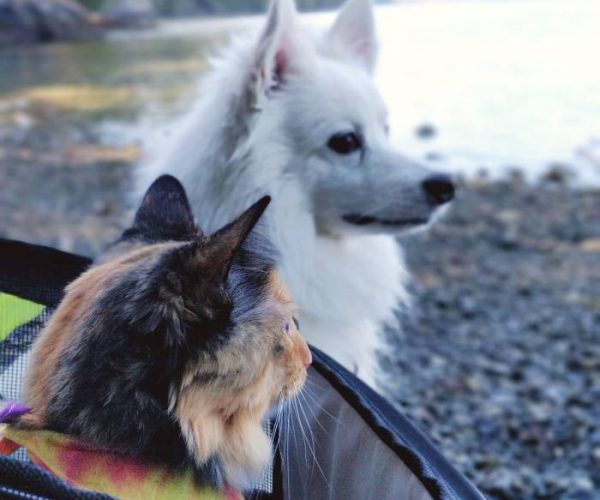 Her favorite place to explore is any forest. She feels most confident walking in covered areas. Her least favorite is the beach, but we are trying to do short outings to help build her confidence there. 
She also loves to play with her feather wand, eat snacks, and sleep.
How long have you had Ember?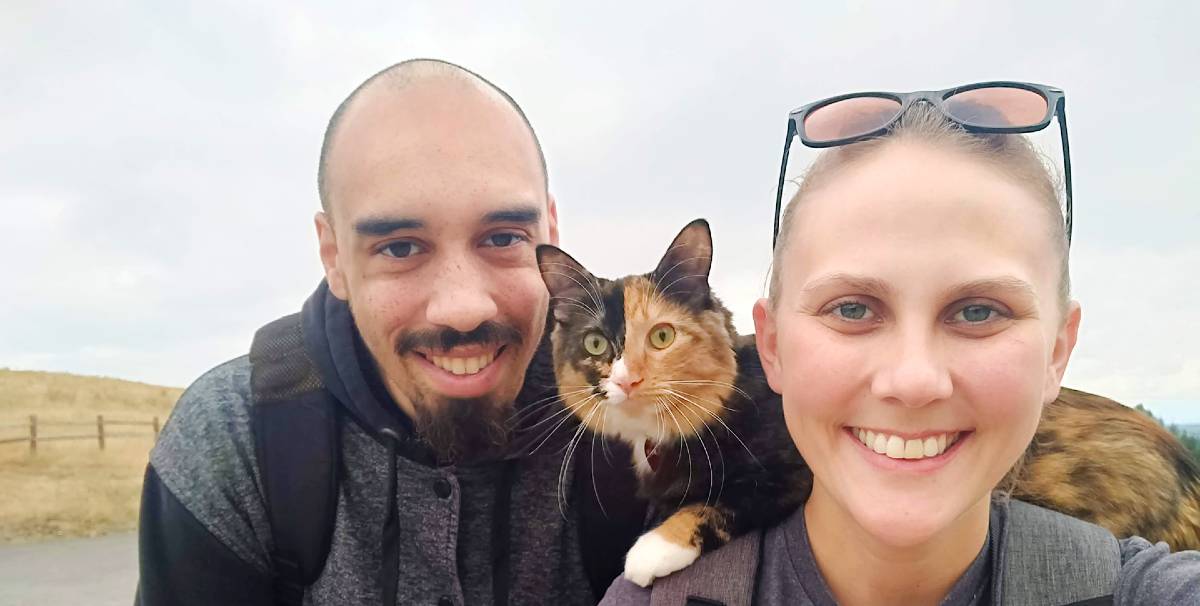 Ember picked us to be her family about 2.5 years ago, by beckoning us over to her shelter kennel. She was about 10 weeks old! 
At the time, we were looking for a confident and curious cat to join us and our two senior dogs. She seamlessly transitioned into our household. Before we knew it, we had a raw food eating, adventure kitten.
What 3 words would you use to describe Ember?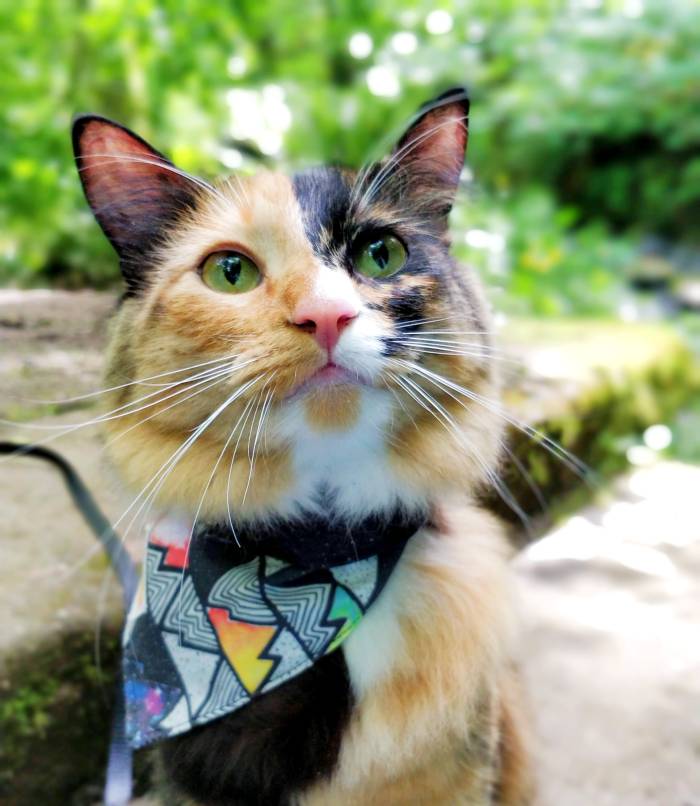 What 3 words would Ember use to describe YOU?
Empress Ember would describe us as her servants, food bearers, and adventure buddies.
Currently, her favorite spot is the rocking chair or the window sill hammock.
Meat (especially turkey)! She also loves lickable sticks and freeze dried meats.
What is Ember's daily routine?
She wakes up around 6am to watch the birds outside, followed by waking the humans at 7am to get breakfast ready. 
After breakfast time, Ember soaks in the sunshine on the catio for a few hours and then comes inside for a good nap. 
Some days we go on a walk around the neighborhood and other days we hit up a forested hike.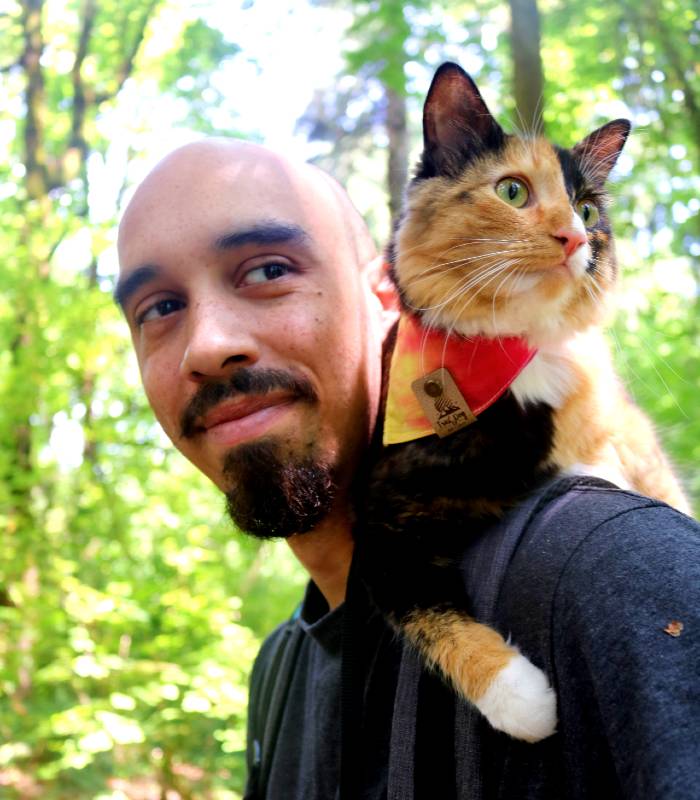 What is your favorite memory with Ember?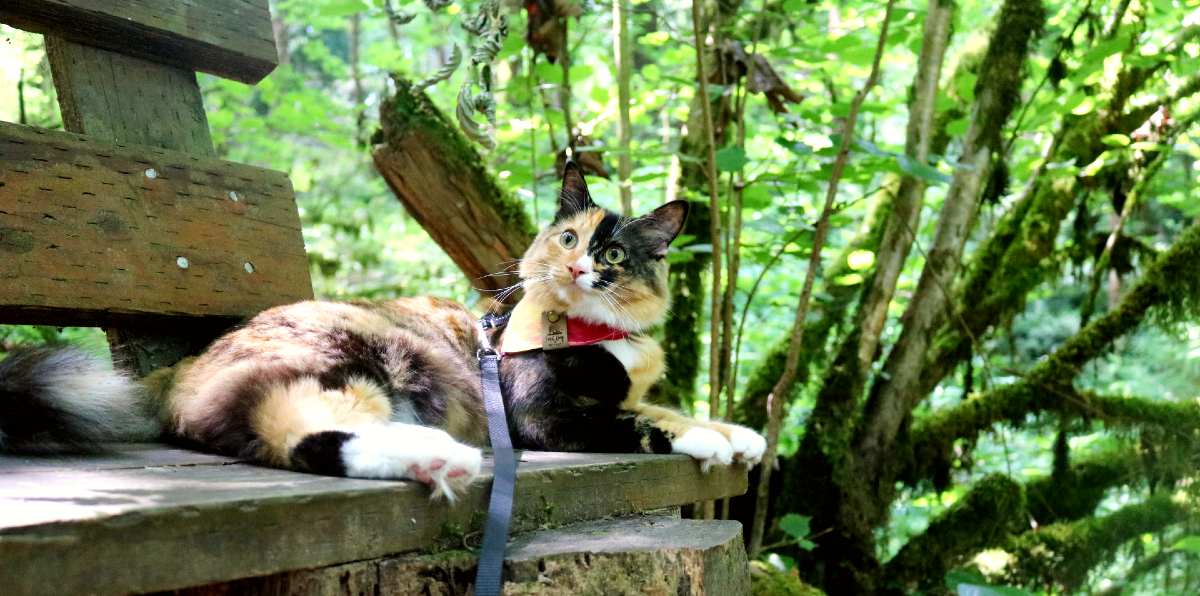 When she picked her PawPaw at the shelter, she was so tiny and in a kennel with her other littermates. When he walked up to the kennel, she walked confidently to the front, reached her little paw through the bars, and beckoned him over. It was like she knew we wanted an adventure kitty, and she wanted to see the world!
What is Ember's relationship with the dogs like?
When she first met them, she was fearless. She confidently approached them and essentially became the ruler of the household at 11 weeks. 
She loves them in her own cat way! She and Ronan chase each other around the house, playing tag. Ember and Kahlua beg for dinner to come faster together.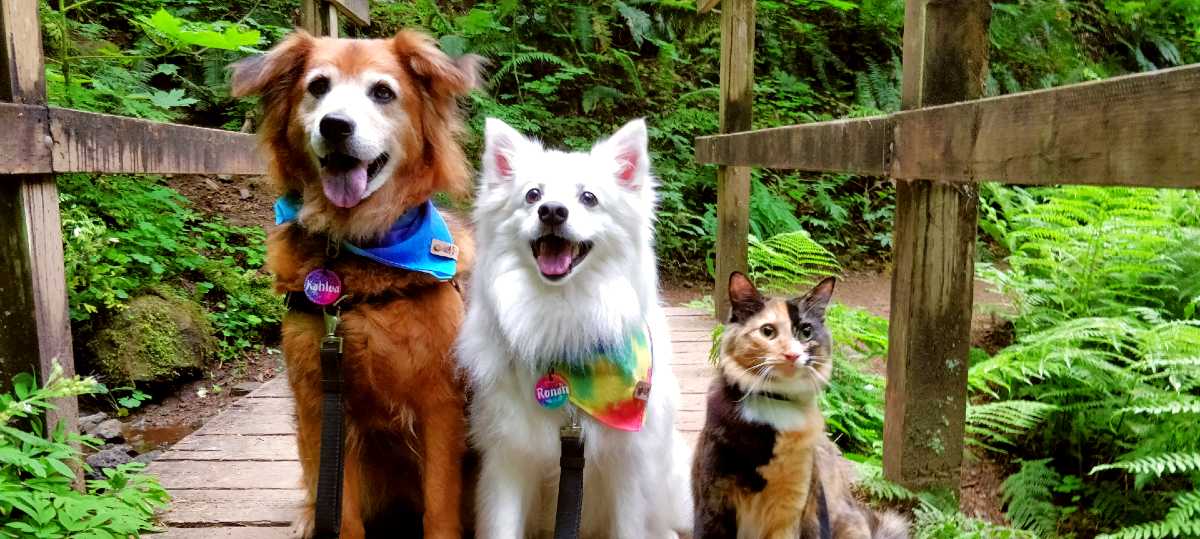 And they all get along extremely well while outside on leash. I think Ember thinks of the dogs as her bodyguards, since she is much more confident with them in the area.
If Ember won the lottery, what would she do with the money?
She would buy so many of her favorite wand toys, bags of birdseed to fill her feeders outside the windows, and meaty treats to stock the pantry!
Does (or did) Ember have any health problems?
Thankfully, Ember is a healthy, happy, and sassy 2.5-year-old kitty.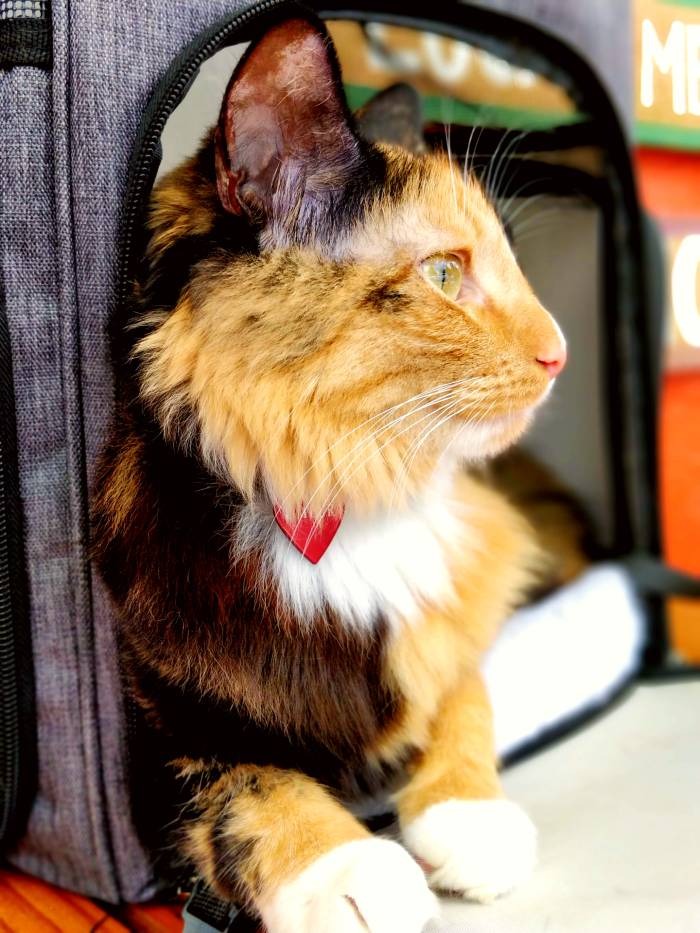 She has been on mostly raw her whole life, with the exception of some canned food when we forget to thaw her food. 
As a kitten, she never really liked eating the same meat back to back. Therefore, we always have a variety of raw foods that we constantly rotate through. 
Ember especially loves turkey! But really, she eats a wide range of meat. We tried to expose her to many different flavors and textures when she was young. The only meat she does not like is venison.
Currently, her breakfast is a ground-up turkey patty made up of meat (45%), organs (45%), and bones (10%) by Vital Essentials. Her lunchtime snack is jerky (Ziwi Peak) and or freeze-dried meats (Simple Food Project – Chicken and Turkey Recipe) in her treat ball. 
Dinner is another Vital Essentials Patty — either chicken, duck, or rabbit. She finishes the night off with a small scoop of Wild Coast Raw, a local company that focuses on meat and organs. We occasionally add a small scoop of coconut oil for her skin and coat during the winter since she is not a fan of various fish oils.
What did you feed before? When did you make the switch to real food?
When we got Ember from the shelter, she was eating a combo of kibble and can. We knew right away that we wanted to transition her to raw. We were already familiar with raw since our dogs have been on raw food for years. Knowing cats are obligate carnivores, it just made sense.
Why did you kick kibble to the curb?
So many reasons. Kibble is an ultra-processed food, therefore very indigestible, made mostly of carbs, with low meat and extremely low moisture. All this can lead to weight problems and a range of health concerns. 
On the other hand, raw is easily digested, high meat and moisture, with little-to-no carb content. All this leads to better skin and coat, healthier teeth, smaller and less stinky poops, and easier weight management.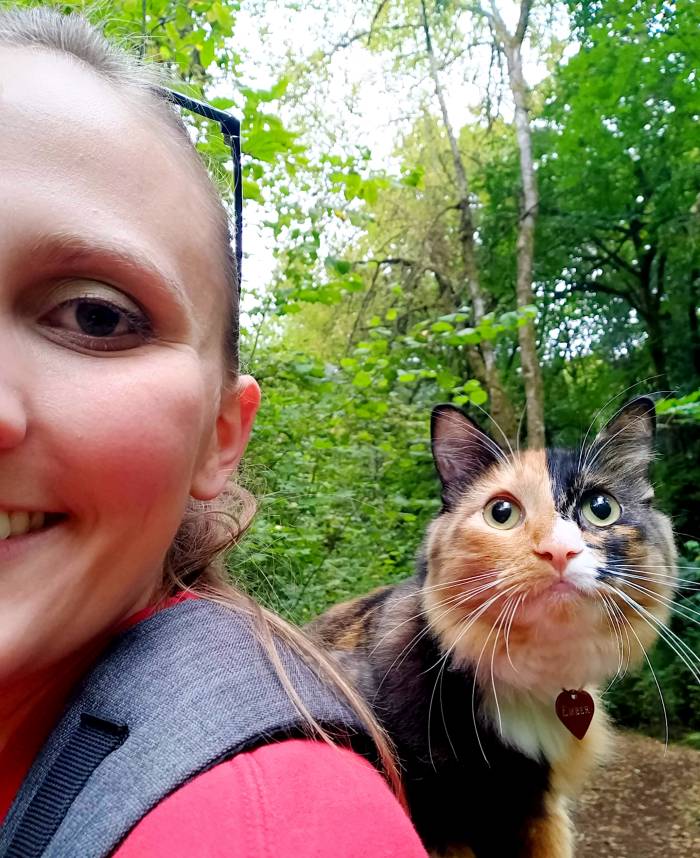 Have you noticed changes since you switched to real, whole food?
People cannot get over how soft her fur is. Plus, she has stunning teeth and a healthy body weight.
What would you say to a pet parent considering making the switch?
Switching to raw is worth it. If you are apprehensive, start small. Work in freeze dried treats, or start with just 25% of the diet being fresh food.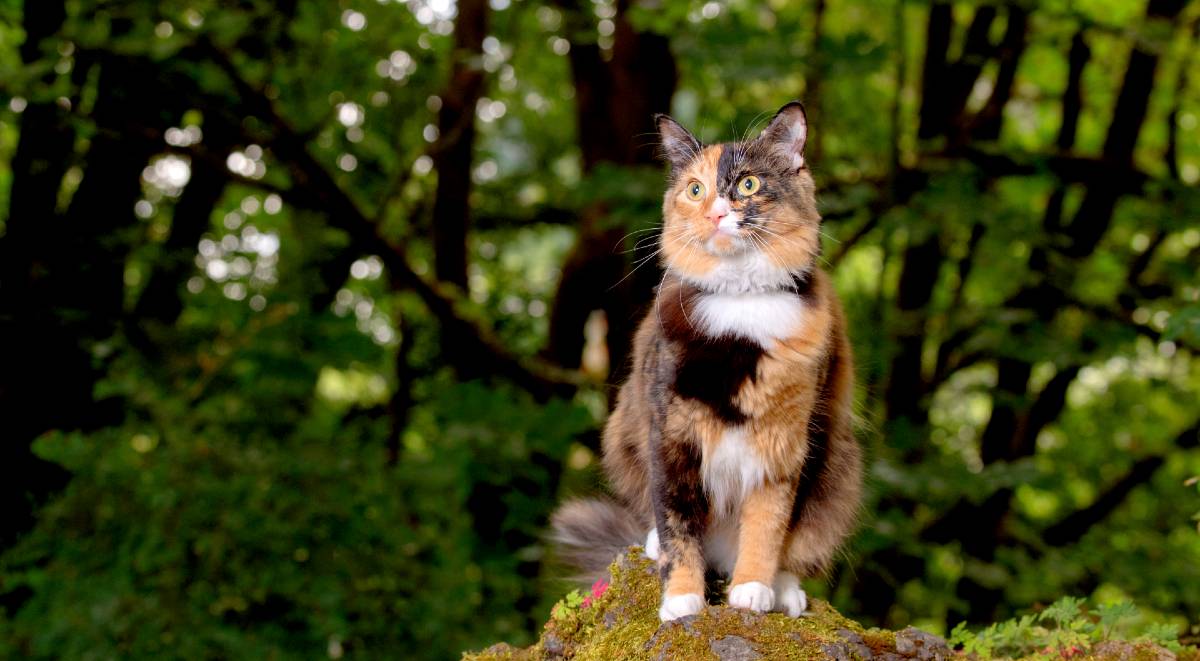 What would Ember say about her whole food diet?
Love it! She cleans her plate after every meal and is excited for her next meal. She loves all the freeze-dried treats when she is learning new skills or just having them for a snack. If she had thumbs, she would break into the pantry and eat more than needed.